Silver Award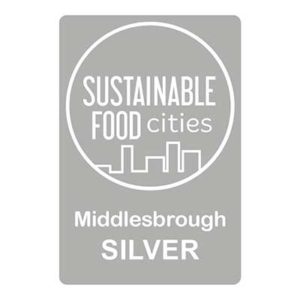 We are an award winning and national frontrunner in healthy and sustainable food, which has been recognised nationally through the Sustainable Food Places (formerly Cities) network. We achieved the Sustainable Food Cities Bronze award in 2017, and in 2019 were the first location to progress from Bronze to the Sustainable Food Places Silver Award.
Sustainable Food Places (SFP) Associate Director Tom Andrews said: "Middlesbrough's dynamic Food Partnership is delivering an immense breadth and depth of work, connecting all of this work right across the food system; this is fundamentally how towns and cities should work.
Middlesbrough has a wealth of good food policies and are ahead of the game on transforming catering and procurement and ahead of the game in tackling food waste. Their support for healthy and sustainable food economy through the Growing Middlesbrough initiative is second to none."
"The town has a really strong multi-agency approach to tackling food poverty through the Food Power Alliance and is delivering a huge range of public facing campaigns, events and activities."
"It really feels different in Middlesbrough."
The Silver Award is a significant achievement for Middlesbrough and the Food Partnership and would not have been possible without the valuable and ongoing hard work of the people, organisations and partners that have supported the Middlesbrough Food Partnership. Thank you for your interest and support.
You can read Middlesbrough's application to Sustainable Food Places for the Bronze Award and Silver Award.
We are now bidding to become a Sustainable Food Gold Award town, and we ask that you join us on that journey. Find out more and how you can get involved in the town's 24 Carrot Gold bid.